Nom : Tsukiyomi
Prénom : Ryo
Job: Chanteur neko
Mon frère jumeau:
j'adore être toi defois mais hum...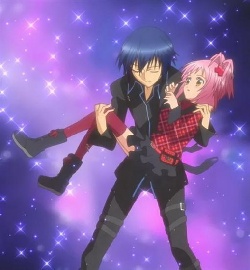 sauveur mais pervers de frère -.-" !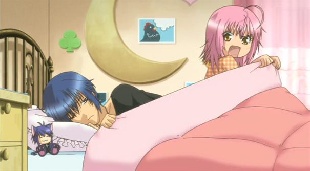 Ce jourla il était malade alors il s'est refugié chez amu (le pauvre elle le cacher dans le placard à chaque fois) !!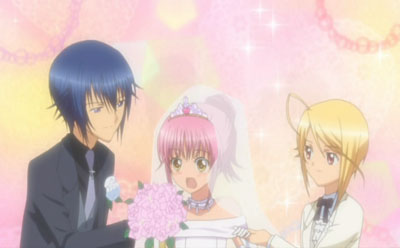 Ca riste d'être juste le rêve d'hinamoriamu X)
"
Oh, but Amu really didn't have to stand up to her mom at all (it still counts though).
A pleasant surprise~
(For some reason I really, really like this screencap. They look like a couple, right? Ri~ght?)
Yes you will. Heck Amu's already looking a little lonely and he hasn't even left yet. (Awww~ Amu-chan~)
Oh. Now here it comes.
Ahhhhhh
At least I have to say this part of the scene was really well done (the Ikuto being mean part), but that doesn't make me feel any better! (It makes me feel worse
)
Ikuto's good at being mean when he's trying to be (this doesn't make me feel any better either). Which really makes it obvious that until now Ikuto's never tried to be mean. When he is trying to hurt someone, he'll really, really hurt them.
(No! Ikuto you can't do that! You're too nice!
)
Noooo! Amu!!! That's what he wanted.
Ahhhh! Ikuto you stupid, stupid, noble boy.
His expression while Amu yelled at him made me so sad. Because he was expecting it and wasn't going to say anything back because it's what he wanted, but it still hurts him and agh! Fangirl agony is pretty much at maximum here. (Stupid love triangle plot and stupid Easter and stupid everyone that gets in the way of my Happy End!!!)
That's right. Ikuto…Ikuto…
You shouldn't have done that. Even if you're protecting Amu and her family…something else could have been worked out! Somehow! (Stupid boy keeping everything to himself should have told Amu!
)
No! Don't say that! It's not true! It's not!
*lacks coherent thought right now*
DX
Irony came back. The "Best Couple" isn't even a couple right now.
END...............
ici je met les personne ineteressant(e)s
Hitsugaya Fujiko